Winter is Coming:
Keep the Cold Away with a Comfy Turnout Blanket
Fall is on its way and with it comes cold, wet weather and the need for winter turnout blankets for your horse. Whether you're purchasing blankets for a new horse, or replacing old blankets, find the best fit for your horse and barn. In this article we will be looking at turnout blankets, which, as the name implies, are designed to be waterproof and withstand the rigors of turnout.
Sizing
How to Measure Your Horse
The first thing you'll need to know when shopping for a turnout blanket is the size of your horse. In the US, most blankets are sized in 3" increments. Measuring your horse for a blanket is easy. You'll want him to stand relatively square and take a tape measure from the center of the chest to his rump.
A blanket that is too small or too large
can cause rubs and if the straps are too loose it can become a safety hazard for your horse.
Weight
Turnout blankets come in three different weights: lightweight or sheets, medium weight and heavyweight. You'll want to choose the weight based on the temperature range of the area that you live in as well as the thickness of your horse's winter coat. A horse with a thick coat will need just a light sheet for most climates, while a horse with a thin coat, or a clipped horse will need a much heavier blanket. Consider investing in multiple weights so that your horse can be comfortable no matter the weather.
Other considerations include the fabric denier. In general the higher the denier the stronger the material. Turnout blankets range from a low end of 600 denier, which is a good, economical choice for horses that are easy on their blankets to a high of 2000 denier, which is a great option for horses that are tough on their blankets. The strongest blankets will be made out of a ballistic denier, which is the same fabric standard that is used in ballistic vests. A good standard denier for most horses is the 1000 to 1200 denier range, allowing for minimal damage with a more economical price tag.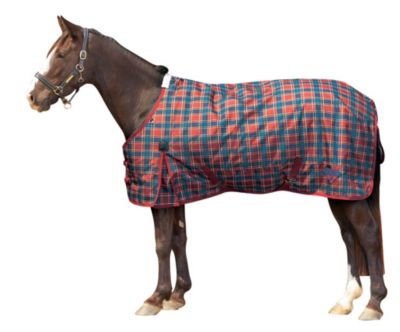 Saxon Turnout Sheet

Turnout Sheets
Light weight sheets have no fill and are a great choice for when the weather is still relatively warm, but it may be wet or damp outside. They are also good for a horse with a thick coat who might need a little extra protection during inclement weather.
The Saxon 1200 Denier Turnout Sheet is a great, stylish option for a horse who is occasionally blanketed. It features a fun plaid patterned rip-stop shell with a smooth nylon lining with buckle front closures, crossed surcingles and leg straps.
Hug Prize Turnout Sheet
Have trouble finding a sheet that fits your horse correctly due to a larger shoulder? The Hug Prize 1200 Denier Turnout Sheet features an innovative neck designed with overlapping chest panels that allow your horse to move his neck and shoulders without binding, eliminating rub marks and pressure on the withers.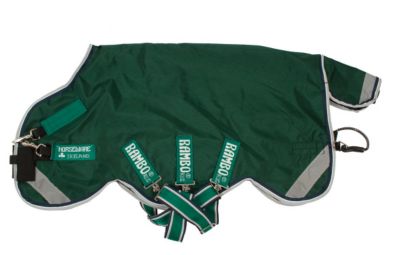 Rambo Original Turnout Sheet with Leg Arches
If you have a horse that loves to romp and roll out in the field, or who's favorite pastime is the destruction of his blankets, the
Rambo Original Turnout Sheet with Leg Arches
is a great
choice. Offered in 1000 denier ballistic nylon, this sheet is designed to withstand rough play. The antibacterial lining combined with the ergonomic leg arches, three surcingle design and PVC coated tail cord ensures that your horse will be comfortable and the blanket will stay in place as well.
Mid-weight/ Medium Turnout Blankets
Amigo Bravo 12 Medium Weight Wug
A medium weight turnout blanket is a great all around winter blanket. Having around 200 grams of fill or equivalent, this weight is great for
most horses in moderate cold, or for clipped horses in cool temperatures.
The Amigo Bravo 12 Medium Weight Wug offers the same blanket cut you've come to love from the Rambo Wug, now at a budget friendly price. The Amigo Wug features a 1200 denier polyester shell with 250 grams of fill, a v front closure and front leg arches for outstanding fit and comfort. The mid-neck design provides less binding at the neck and withers, making it a great option for horses with a prominent wither, or for those with long manes. This feature also helps to keep your horse warmer during wet weather from preventing the entrance of water at the neck.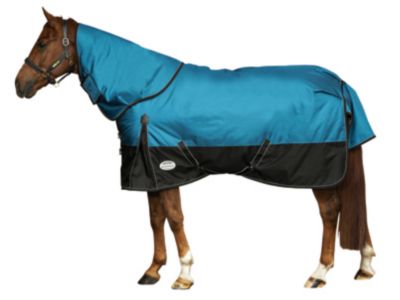 Weatherbeeta Original 1680 Detach-A-Neck Turnout
The Weatherbeeta Original 1680 Detach-A-Neck Turnout Blanket features a durable Teflon coated material with 220 grams of poly fill with a no rub Oxford lining and taped seams for a truly waterproof design. As an added benefit this blanket comes with a detachable neck cover, which is a great option for fully clipped or thin skinned horses, or for cold, wet weather. The quick clip front makes it easy to change blankets.
Heavy Weight Turnout Blankets
If you live in a very cold climate or if you have a horse who is
sensitive to cold temperatures, a heavy weight blanket is a great choice. Heavy weight blankets contain 300 to 400 grams of fill or equivalent.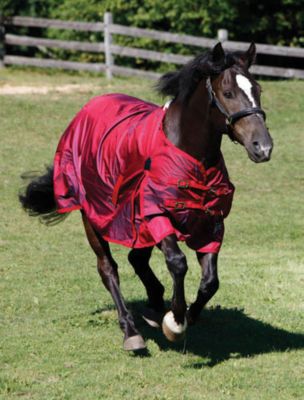 Shires Stormcheeta Heavyweight Turnout Blanket
If your horse is a terror to his blankets, try the Shires Stormcheeta Heavyweight Turnout Blanket. Crafted of ultra-tough 2000 ballistic denier, this blanket is designed to withstand your horse's toughest play, or his ultra destructive friends. With 400 grams of fill this blanket is great for the coldest temperatures and features d-rings for the attachment of a neck cover (sold separately), shoulder gussets for increased freedom of movement and unique crossed surcingles.
Bucas Power Turnout Blanket
Tired of needing a complicated blanketing chart for your horse who's boarded, or just dislike constant changes of blankets? Consider the Bucas Power Turnout Heavyweight Blanket. Featuring a ballistic nylon shell with a heat-reflective coating and stay-dry antibacterial lining, which allows it to also be used as a cooler. The temperature rating on this
blanket is -21° to 62°. Offers an overlapping comfort front with a click and go closure system for ease of use.

Horze Avalanche Combo Heavyweight Turnout Rug

A great option for older horses who need extra warmth, the budget-friendly Horze Avalanche Combo Heavyweight Turnout Rug features an attached neck cover for extra warmth and ease of and is constructed out of 600 denier rip stop material with 350 grams of poly fill. The unique attached neck cover eliminates the open gap that occurs with traditional covers and is also great for those horses who occasionally liken themselves to Houdini.