All About Breeches
Confused about breeches? Even if you're a seasoned horseman, finding the
right breeches can be a difficult task. Not only are there a variety of different styles and fabrics, there are also different patches that can all change the fit and feel of the pants when you're in the saddle. And then, to make it even more confusing, there's the sizing. Unlike street clothes that typically use standard numbered sizing from 00 to 18 in the US, breeches are generally sized via waist measurement in inches.
In this post we'll explore some of the standard types of breeches that are used for schooling. (Many of these breeches can also be used for shows, if they're purchased in plain colors). Remember, most breeches are designed for use with either tall riding boots, or short paddock boots and half chaps for optimum comfort.
Knee Patch, Full Seat and Euroseat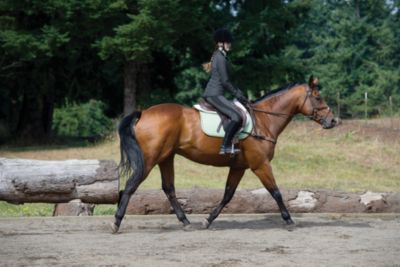 Irideon Synergy Knee Patch Tights
When you're choosing breeches, one of the first decisions that you'll need to make is what type of patches you want on your riding pants.
A knee patch breech is considered the standard style of breech, and is popular with most disciplines, including hunter/jumpers and pleasure riders. Knee patch breeches, as their name implies, have a self or suede patch of fabric on the inside of the knee to provide extra wear protection against the saddle.
Full seat breeches are popular among dressage riders, eventers and anyone who prefers a little extra security in the saddle. These breeches feature a patch of suede or synthetic fabric along the inside of the leg and buttocks to provide extra grip in the saddle for the dramatic movement of the horse.
Euroseat breeches are a hybrid of the two types and feature a knee patch, but have a fabric seam across the buttocks that mimics the lines of a full seat. These are quickly becoming a popular side staple to the traditional knee patch breech for their comfort and flattering style.

Everyday Schooling Breeches in Fun Styles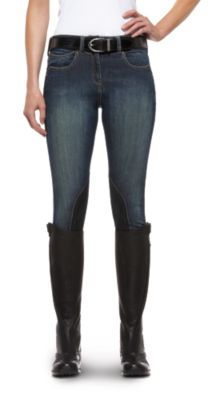 Ariat Denim Knee Patch Breeches
Unlike show breeches, which must be conservative in color, usually tan or white, schooling breeches allow you to show off your sense of style. Available in a variety of colors and fabrics, simply choose you're favorite and you'll be ready to ride in style.
Love your jeans for everyday wear, but don't want to damage your saddle or deal with painful seam rubs? Now you can have the best of both worlds with denim breeches.
Goode Rider Cargo Denim Full Seat Breeches
The Ariat Denim Breech features Ariat's signature style in a tasteful jean breech with a medium wash stretch denim and synthetic suede knee patch and decorative back patch pockets.

From Goode Rider comes the
Full Seat Denim Cargo Breeches
, which features a trendy olive brown stretch denim with contrasting ultra-suede full seat and unique cargo pockets, which are even large enough to fit your smart phone.
Fun Styles and Colors

Tired of plain old colors and traditional styling? Why not try breeches in fun patterns and the latest fall colors?
TuffRider Piaffe Plaid Full Seat Breeches

Plaid is back in a big way for dressage riders and the
TuffRider Piaffe Plaid Full Seat Breeches
offer style and function. Featured in a lovely light grey plaid micro-fiber fabric with contrasting dark grey full seat and contoured sock bottom for comfort under tall boots or half chaps.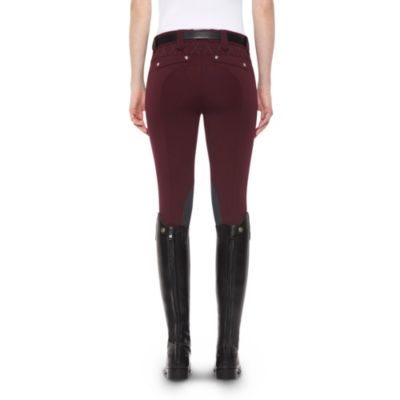 Ariat Heritage Euroseat Breeches in Wine

One of the most fashionable colors this fall is now available in your favorite breeches. The Ariat Heritage Front Zip Breech is featured in a delightful wine color with dark grey knee patches this season only. Subtle styling adds a touch of class with contrasting grey stitched quilt patterning on the yoke of the breeches as well as a touch of silver buttons on the faux back pockets.
Riding Tights
Riding tights are the yoga pants of the horse world. Tights are one of the most comfortable and easy to wear styles of riding pants and are offered in knee patch and full seat styles.
FITS Treads Lite Breeches
If you love your FITS Full Seat Breeches, then you'll love their new riding tights. The
FITS Treads Lite Breeches
offer a rubberized ink dot version of their unique full seat patches in a comfortable pull on style at a great price.
The Irideon Synergy Tights (shown in section above) feature a unique combination of technical fabrics for a sporty look and excellent support. Available in a variety of colors with the option of a bright contrast of color on the Camisoft waist band.